Welcome!
Welcome to Triangle Promo, a division of Acudata, committed to promoting your company with promotional products. It's a great way to:
• Make your company name more visible
• Introduce a new product or service
• To thank current customers
• Promote your name at trade shows & events
Our on-line catalogue of over 700,000 items is accessible by going to the search button. You may also visit our "Specials" and "Links" page as well.
Featured Item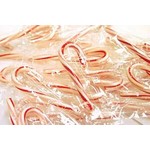 Mini Candy Canes - Bulk Candy
Individually wrapped, three-inch candy canes. Combined quantity available with other candies in Everybody's Favorite Line. Also available personalized -
$94.50 - $102.00
Signature Showrooms